Previous entry anniversaries
What do you think the images below have in common?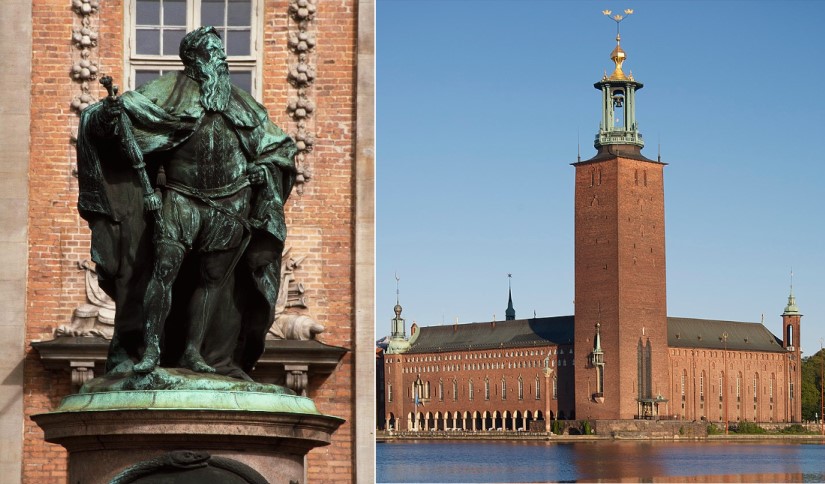 The statue of King Gustav Vasa in front of the Knight's House in Stockholm was unveiled on June 24, 1774, on the day 251 years after Gustav Vasa marched into Stockholm on Midsummer's Eve in 1523. It wasn't originally intended that way. When the statue was commissioned by the nobility to be executed by the sculptor Pierre Hubert L'Archevêque in 1760, it was supposed to be ready for the 250th anniversary of Gustav Vasa's arrival in Stockholm, but it did not have time to be completed in time.The statue was not completed until December 13, 1773, but was covered by a lining of boards in which a sailcloth was strung over in anticipation of the unveiling on June 24, 1774, the day of Vasa's entry 251 years later. The statue was the first public statue in Sweden and has, among other things, given the name to Vasabron, which connects Riddarhustorget with Tegelbacken.
The decision to build the City Hall in Stockholm – pictured to the right – was made as early as 1908, but it was not until 1923 that the City Hall could be inaugurated. It took 15 years to complete the building, which was inaugurated midsummer's eve on June 23, 1923 on the 400th anniversary of Gustav Vasa's entry into Stockholm.
The inauguration of both of these monuments has thus marked the anniversary of Gustav Vasa's entry into Stockholm 251 (250) and 400 years earlier, respectively.
Stockholm City Hall will also celebrate its 100th anniversary in 2023. Something you can read more about here.